Medford New Jersey Landscaping Companies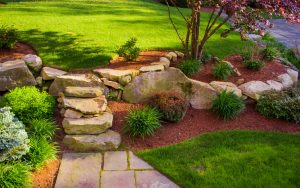 At Garden Graphics Landscape & Design, we are your professional and local destination for Medford New Jersey landscaping companies. We are based right here in town, and provide first class landscaping services to residents and businesses throughout the area. At Garden Graphics, we're committed to fair pricing and quality workmanship, and it's why we retain 90% of our clients from year to year.
Reach out to us for all of your landscaping needs in Medford, including:
Landscape Design. We design landscapes that take every factor into consideration…including architecture, style, and surrounding context. We can create a landscape for you that makes the most of each type of area on your property and adds beauty and function to your outdoor space.
Landscape Plantings. Our professionals incorporate native and low maintenance plantings in your space, while preserving functionality and offering seasonal interest. We can turn your landscape into a more welcoming, visually appealing area, using native plantings that eliminate the need for chemical sprays.
Landscape Lighting. Landscape lighting increase homeowner safety and adds a "lived in" look for out of town homeowners. We can enhance your landscape with low-voltage lighting that enables you to enjoy your outdoor space in the evening as well as the daytime.
Landscape Maintenance. Proper landscape maintenance is the key to good design. We take care of planting beds through the seasons, turf care including mowing, fertilizer and weed control, and tree care that includes pruning, tree removal and stump grinding. We keep your landscape beautiful throughout the year.
At Garden Graphics Landscape & Design, our team of professionals have years of experience in landscape design and installation, and our customers repeatedly compliment us on the professional manner in which our crews conduct themselves. Reach out to us today and see why we're the easy choice for Medford New Jersey landscaping companies – you'll love the look and beauty of your outdoor space!