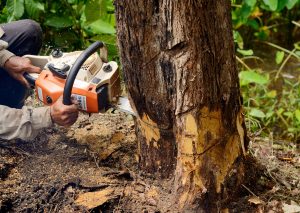 Do you need trees and branches removed from your property? Garden Graphics performs tree removal services in Medford, New Jersey. We have the equipment and experience to remove trees from your property that are invasive, dying, or simply inconvenient. We offer 24-hour tree removal services for Medford residents and businesses – if you have an emergency tree removal situation, call us now at 609-953-0457.
Our company is headquartered right here in Medford and if there is one thing Medford residents understand, it is trees! Medford and Medford Lakes are both covered with very large, old trees. Every time there is a major storm in Medford, we experience a huge influx of phone calls regarding downed trees and branches. A few years back we actually had some major straight-line winds that postponed our beloved Medford Lakes Canoe Carnival and damaged many of the floats in the competition.
So we understand the need for tree removal! At Garden Graphics, we're prepared. We have modern tree removal equipment including a brand new stump grinder and log splitter, and our management has over 40 years in the landscape and tree service industry. We will remove all of your obtrusive trees and branches, grind your stumps to help you avoid infestations, and clear the debris off of your property.
Visit our Trees page to see a photo gallery of our tree removal services and helping Medford residents with difficult tree situations.
Request Your Medford Tree Removal Services Today.
If you need tree removal services in Medford or Medford Lakes then you should call one of your neighbors who has the tools to get the job done. Reach out to your Medford neighbors at Garden Graphics LLC – use this online form to contact us today! We are your local tree removal experts.
Interested in seeing some case studies of our finished work? Be sure to visit our Facebook page!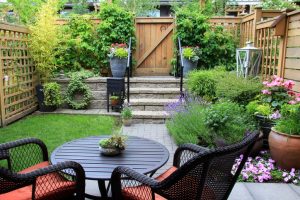 Garden Graphics Landscape and Design that brings affordable landscape maintenance in Medford, New Jersey. This landscape maintenance company serves residents of Medford, Medford Lakes, Shamong, Tabernacle, Marlton and surrounding communities. With over 40 years in the art and knowledge of maintaining the optics of unique landscape designs, they believe the key to a good design is proper long term maintenance.
Our degreed landscape designer has 25 years worth of designing and installing projects in South Jersey. The foremen on our projects have ICPI Certification in interlocking paver and retaining wall systems installation. The team at prides themselves on reviews and testimonies of the customers they have impacted. Clients consistently compliment Garden Graphics on the clean, courteous, polite and respectful way our foremen and crews present themselves and treat the property. With results like these being the expectation for 4 decades, residents in search for affordable landscape maintenance in Medford, have long looked towards Garden Graphics.
The majority of Garden Graphics residential clients are right in the Medford area. A proud staple of the local community, they love serving the landscape needs of the citizens throughout Burlington and Camden Counties. It's the dedication to the local community is that sets Garden Graphics Landscape and Design apart from our competition. When you do the majority of your work providing affordable landscape maintenance for your friends and neighbors, your reputation is everything.
Interested in some tips for your own landscape before getting started? We recommend seasonal maintenance of planting beds, because they require pruning, fertilizing, mulching and weeding. For turf care, techs are available including weekly mowing and seasonal applications such as lime, fertilizer and weed control. Topsoiling, aeration, thatching and overseeding is critical to a healthy lawn as well.
Request Your Medford Area Affordable Landscape Maintenance Today!
For experience and expertise in affordable landscape maintenance in Medford, New Jersey, Garden Graphics is happy to help. Reach out to us today and tell us about your needs…we're looking forward to beautifying your outdoor space at a price you can afford!
Interested in seeing case studies, samples of our finished work, and ideas for your own outdoor space? Be sure to Like our Facebook page today!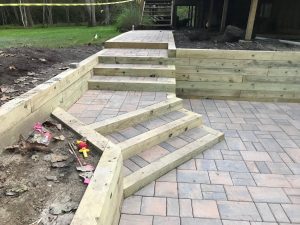 Garden Graphics recently used railroad ties to create this outdoor oasis for one of our customers. Railroad Ties are an inexpensive way to create various elevations and create borders around landscaped elements. Actual railroad ties that are used in the construction of rail lines are much wider than the 4″ x 4″ x 8′ pressure treated lumber beams that we use in landscaping, but the name is synonymous with the later. Garden Graphic has over 20 Years of experience in designing and installing railroad tie retaining walls, boarders, and shed pads. Our team will design your project, remove and dispose of old structures and install your new landscape features using these economical materials.
See What We Can Create Using Railroad Ties
Call: (609) 953-0457 or Email Us using the form below