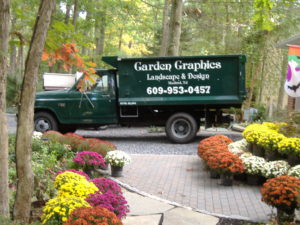 Garden Graphics provides first class South Jersey landscaping and hardscaping services to clients in Burlington and Camden Counties, and we're ready to respond to your needs for landscape installation, design, and maintenance.For over 20 years now, we've been providing quality services to property owners throughout the region, and we're dedicated to both quality work and a top notch customer experience.
Our offices are located in Medford NJ and we have a very strong following of clients in the area. We are well known as a respected landscaping company in Medford, Marlton, Shamong, Mt Laurel and Tabernacle. We recently began expanding our operations into Camden County to include neighborhoods in Cherry Hill and Voorhees.
Our services include a full variety of landscaping and hardscaping for South Jersey homeowners…we do landscape design, lighting, walks, patios, driveways, seeding, lawn mowing, pressure washing, and much much more, including snow removal in the wintertime. See a full list of our offerings with links to descriptions of our service here!
Our company is growing and expanding quite rapidly, but one thing remains the same and that is our commitment to fair pricing and quality workmanship. That is why we retain over 90% of our clients year to year. South Jersey residents expect quality and service from their landscaping company and Garden Graphics delivers every time:
Reach Out For Your South Jersey Landscaping Services Today!
If you're looking to improve the look, function, and value of your South Jersey home, contact the professionals at Garden Graphics and let us know what you need. We're ready to turn your outdoor space into an attractive place that you'll love coming home to every day!
We welcome you to have a look at some of South Jersey landscaping jobs below:
Want to see more case studies and get more ideas for your South Jersey landscape? Have a look at our Facebook page!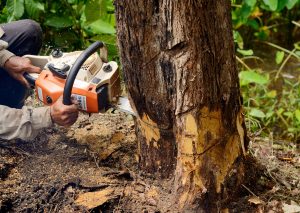 Do you need trees and branches removed from your property? Garden Graphics performs tree removal in Medford, New Jersey. We have the equipment and experience to remove trees from your property that are invasive, dying, or simply inconvenient. We offer 24-hour tree removal services for Medford residents and businesses – if you have an emergency tree removal situation, call us now at 609-953-0457.
Our company is headquartered right here in Medford and if there is one thing Medford residents understand, it is trees! Medford and Medford Lakes are both covered with very large, old trees. When there is a major storm in Medford, we experience a huge influx of phone calls regarding downed trees and branches. A few years back we actually had some major straight-line winds that postponed our beloved Medford Lakes Canoe Carnival and damaged many of the floats in the competition.
So we understand the need for tree removal! At Garden Graphics, we're prepared. We have modern tree removal equipment including a brand new stump grinder and log splitter, and our management has over 40 years in the landscape and tree service industry. We will remove all of your obtrusive trees and branches, grind your stumps to help you avoid infestations, and clear the debris off of your property. If you are a property owner in need of land clearing for development, we can take that on for you too…just ask us about our services and rates.
Visit our Trees page to see a photo gallery of our tree removal services and helping Medford residents with difficult tree situations. There's no tree removal issue our team can't handle, and we're here to help keep your property safe. We are a family owned and operated company that is fully insured, and we have many years of experience in landscaping and tree removal services.
Request Your Medford Tree Removal Services Today.
If you need tree removal services in Medford or Medford Lakes then you should call one of your neighbors who has the tools to get the job done. Reach out to your Medford neighbors at Garden Graphics LLC – use this online form to contact us today! We are your local tree removal experts, and we'll take care of cleaning up your property safely and at a fair price.
Interested in seeing some case studies of our finished work? Be sure to visit our Facebook page!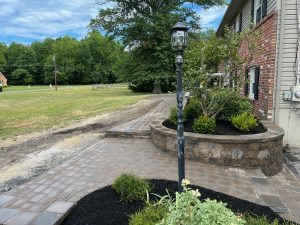 Garden Graphics recently completed a paver walkway and retaining wall in Medford, NJ at the home of the Zuber family. We designed and installed the entire project including: a new front paver walk, steps and a retaining wall with new plantings. The entire project was completed in only 8 days.
Features of paver walkway and retaining wall in Medford, NJ
1. Homeowner did not have a functioning front entrance due to slope in grades and no front walkway.
2. Removal and disposal of old overgrown Shrubs as needed.
3. Installed new paver walk.
4. Installed new retaining wall.
5. Installed new steps due to grade changes.
6. Installeded new plantings.
Quote What a difference, great job-Thank you!
– Homeowner
Photos of paver walkway and retaining wall in Medford, NJ at the home of the Zuber family.