Weathersfield Development – Medford NJ Landscape Design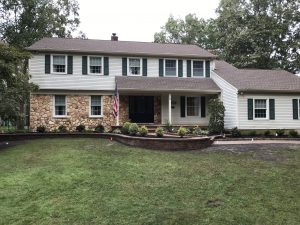 Garden Graphics recently completed a landscaping and hardscaping redesign in the Weathersfield Development for Janet & Carl on Carriage Court. The project included: tree removal, landscape design services, hardscaping and landscaping. The entire job was completed in 5 days with a 5 man crew. The Weathersfield Development in Medford, NJ is a highly desirable neighborhood with 4-5 Bedroom homes that are moderately priced and well maintained.
Janet & Carl where not happy with how the front of the landscape & hardscaping looked and the flow of the walk leading to the front entrance of the home. This job had some tree and shrub removal. Some grading was needed to make elevations right as per the new design. If you are looking to rehabilitate your landscape, contact us for a free estimate.
Features of Weathersfield Development Landscaping Redesign
1. Redesigned front foundation landscape and hardscape to make more functional and appealing.
2. Some tree and shrub removal was needed on this landscape job to allow for new design to be implemented.
3. Garden Graphics transplanted some of the original plantings to reintroduce into new landscape.
4. Garden Graphics will not send (1) or (2) employees to a large landscape job it is important to us to make sure we get our jobs done in a reasonable time for the Convenience of the customer and the professionalism of us.
5. As a Owner of a Landscape company there is no better felling then when a job comes together and the customer is happy with job you designed installed.
"Jeff and his crew did a great job with our front landscape it changed the look of the front of our home for the better. We are very happy."
– Janet & Carl
Photos of Weathersfield Development Landscaping Redesign