Category Archives:
Uncategorized
---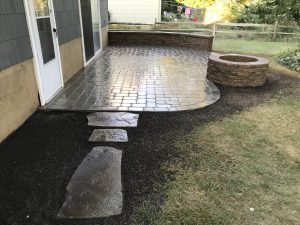 Garden Graphics recently completed this fire pit and hardscaping in Cherry Hill, New Jersey at 16 Waverly Road. The customer was looking to remove an outdated concrete patio and replace it with a true outdoor entertainment area. The job included: demolition work that had to be done including the removal of an old concrete patio. We redesigned layout of patio area to allow for new sitting walls, a fire pit and new paver patio area.
Features of Fire Pit and Hardscaping in Cherry Hill
1. Redesigned back patio area with new paver patio rapped with sitting walls and fire pit.
2. Garden Graphics had to remove and dispose of old concrete Patio
3. We installed Sitting Walls on this job to add privacy and extra sitting areas.
4. We also Installed a fire pit for relaxing with and entertaining friends and family.
5. Garden Graphics takes pride on every job we install from start to finish.
Photos of Fire Pit and Hardscaping in Cherry Hill
If you are interested in reviving your landscape design, please
CONTACT US
for a free estimate!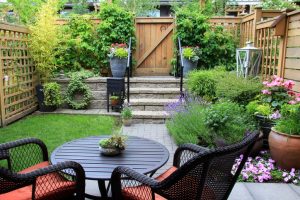 Garden Graphics Landscape and Design that brings affordable landscape maintenance in Medford, New Jersey. This landscape maintenance company serves residents of Medford, Medford Lakes, Shamong, Tabernacle, Marlton and surrounding communities. With over 40 years in the art and knowledge of maintaining the optics of unique landscape designs, they believe the key to a good design is proper long term maintenance.
Community Response from Medford
Our degreed landscape designer has 25 years worth of designing and installing projects in South Jersey. The foremen on our projects have ICPI Certification in interlocking paver and retaining wall systems installation. The team at prides themselves on reviews and testimonies of the customers they have impacted. Clients consistently compliment Garden Graphics on the clean, courteous, polite and respectful way our foremen and crews present themselves and treat the property. With results like these being the expectation for 4 decades, residents in search for affordable landscape maintenance in Medford, have long looked towards Garden Graphics.
The majority of Garden Graphics residential clients are right in the Medford area. A proud staple of the local community they love serving the landscape needs of the citizens throughout Burlington and Camden counties. It's the dedication to the local community is that sets Garden Graphics Landscape and Design apart from our competition. When you do the majority of your work providing affordable landscape maintenance for your friends and neighbors, your reputation is everything.
Tips for Affordable Landscape Maintenance
They recommend seasonal maintenance of planting beds because they require pruning, fertilizing, mulching and weeding. For turf care, techs are available including weekly mowing and seasonal applications such as lime, fertilizer and weed control. Topsoiling, aeration, thatching and overseeding is critical to a healthy lawn as well.
For experience and expertise in affordable landscape maintenance in Medford, New Jersey, Garden Graphics is happy to help.
Landscape lighting is a great way improve the look of your property no matter how big or how small it may be. Landscape lighting in Medford and Medford Lakes is very popular. Most neighborhoods do not have streetlights. Landscape lighting is a great security feature and as a deterrent to criminals and wildlife. Wooded areas like Medford and Medford Lakes are targets for robbers because they can usually escape unnoticed. If your house is well lit then it will be less attractive to criminal elements.
Garden Graphics is a full service landscape design and installation company serving the landscape lighting needs of Medford, Medford Lakes, Marlton, Shamong and Tabernacle residents. Let our talented designer create a lighted landscape that will make your home more attractive to neighbors and less attractive to vandals, robbers and wildlife.