Category Archives:
Portfolio
---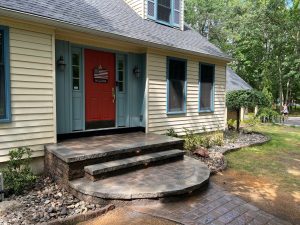 Garden Graphics, LLC recently replaced the front steps and walkway in Medford, NJ at the home of the Ferrarie family. The entire project took a total of 10 days from start to finish with a 3 man crew. Garden Graphics first created a design for the project that was approved by the customer. Once the design was approved, we removed and disposed of the old front steps, landing and front walk to make way for the new Hardscape. Next we installed a new front paver walk, a front paver landing and new paver steps. The customer was very satisfied with the speed and workmanship.
Highlights of front steps and walkway in Medford, NJ
Designed project digitally
Removed and disposed of front steps, landing, old brick walk
Installed new Landing and steps
Installed a new paver walk
Graded Ares as needed
Photos of front steps and walkway in Medford, NJ
"Great job Garden Graphics – Thank you!"
-Mr. Ferrarie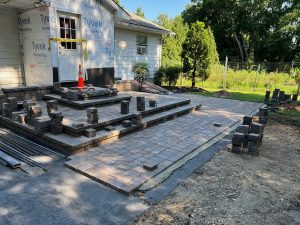 Garden Graphics LLC recently completed a job for a new client consisting of a new paver patio installation in Tabernacle, NJ. Our installation team first had to remove the old wooden deck and steps before work on this project could begin. The client the Mann family were tired of their old rickety wooden deck, that after years of usage had now turned into an eyesore. There was also danger for the children when going onto the deck, splinters, loose boards, and old nails could cause harm to the family. Mr. Mann had looked for a new kind of backyard entertainment space, and contacted the professionals at Garden Graphics LLC.! Our sales team helped the Mann family pick out the best materials that suited their home, once everything was set our team got to work on creating the best possible backyard living space for the mann family. We had designed a lay out for new steps, landings, and a patio area. After designs were set we got to work and installed the entire set up, we also installed new plantings around new patio area along with a firepit area made from boulders. Garden Graphics had to work with other contractors as the house was getting a total outside makeover from a new roof, siding, windows and doors. What a big difference in the appearance of the house when the job was complete!
Highlights of the New Paver Patio Installation In Tabernacle, NJ:
Demolition and disposal of old deck and steps.
Grade area to allow for new paver patio, landings and steps.
New Plantings around patio.
New firepit was installed off patio area.
"The Installation team at Garden Graphics were very Professional, preformed quality work in a timely manner, and overall did a really great job that my family will enjoy for many years. Thank you!"
~Mr. Mann
Photos of the New Paver Patio Installation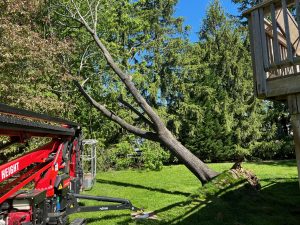 Garden Graphics completed a full service tree & stump removal in Medford, NJ. The client had wanted his old rotting trees pruned and removed from his properties. Old rotted trees can be dangerous because in a storm or strong winds they can easily be knocked over and cause major property damage. This is why the client desperately needed our services, once contacted we sent out a technician to give the client an estimate, and after pricing was agreed upon our team of experts at Garden Graphics LLC went out to perform the tree removal at each property including towns such as Medford, Tabernacle, & Shamong, NJ. We took precautionary steps to avoid any damage to the clients properties and did a thorough clean up after the job was completed.
Highlights of the Full Service Tree & Stump Removal In Medford, NJ
Garden Graphics is fully insured and Licensed in the state of NJ to remove trees, prune trees and remove stumps.
Garden Graphics has all the proper equipment to remove trees and stumps safely and professionally.
Garden Graphics Has over 30 years of experience in tree removal and Landscape construction.
Our business-customer relationship has been well maintained, with the client always being satisfied with the pricing and final reveal for each project.
"We could not be any happier with Garden Graphics Landscaping. After several visits and consultations regarding a patio/terrace extension from our existing deck, we knew they were the perfect fit for us. From start to finish, they fulfilled every expectation of ours including design, workmanship, timeliness, ease of contact, and tidiness. We will continue to contract with Garden Graphics for all our landscaping needs."
Photos of the Full Service Tree & Stump Removal