Category Archives:
Landscape Lighting
---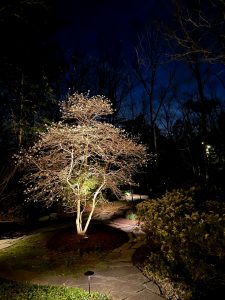 Garden Graphics is your Installer of low voltage landscape lighting in Medford, New Jersey. For over 20 years, we have been bringing countless landscapes to life at night, not only aesthetically, but functionally, adding safety and security. We only use quality grade fixtures with LED bulbs for long lasting results and durability.
Key attributes of Landscape Lighting
Bring your landscape to life at night with landscape lighting.
Add landscape lighting to your home for safety and security.
Enjoy your property after hours, both outdoors and indoors.
Garden Graphics uses quality fixtures with LED bulbs.
Photos of landscape lighting in Medford, New Jersey
Call: (609) 953-0457 or Email Us using the form below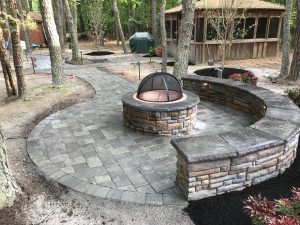 Garden Graphics recently completed a new Hardscaping and Landscaping project in Medford, NJ at the home of Kathy and Jeff. We had to remove and dispose of some stumps to allow for new Hardscape project to be installed. We installed paver walks through the woods that lead to sitting walls, fire pit area. We installed lighting in the sitting wall and along paver walks to add security, safety and character to the over all project. The job was completed in 7 days using a 3 man crew.
Highlights of new Hardscaping and Landscaping in Medford, NJ
Hardscape Design Service
Stump removal.
Installed paver walks and walls, fire pit.
Installed low voltage lighting.
Added New Plantings
Photos of new Hardscaping and Landscaping in Medford, NJ
Landscape lighting is a great way improve the look of your property no matter how big or how small it may be. Landscape lighting in Medford and Medford Lakes is very popular. Most neighborhoods do not have streetlights. Landscape lighting is a great security feature and as a deterrent to criminals and wildlife. Wooded areas like Medford and Medford Lakes are targets for robbers because they can usually escape unnoticed. If your house is well lit then it will be less attractive to criminal elements.
Garden Graphics is a full service landscape design and installation company serving the landscape lighting needs of Medford, Medford Lakes, Marlton, Shamong and Tabernacle residents. Let our talented designer create a lighted landscape that will make your home more attractive to neighbors and less attractive to vandals, robbers and wildlife.