Plantings and Natural Stonework in Tabernacle, NJ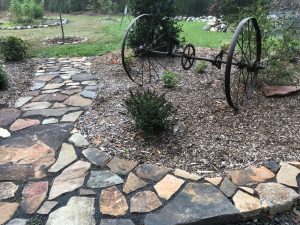 Garden Graphics recently completed the design and installation of plantings and natural stonework in Tabernacle, NJ at the home of Jeff. Jeff had an area of his property that in his words was "wasted space". It took a crew of 3 guys only 3 days to complete this beautiful installation of a small retaining wall and walkway. We even worked in an old farm plow that Jeff had sitting on his property.
5 Key attributes of the Plantings & Natural Stonework in Tabernacle, NJ
1. Designed area
2. Installed field stone walls and walks.
3. Installed new Plantings
4. Install old Farm art Plow and wheels
"I am so stoked about how this project came out. It really was a wasted space on my property. Now it is a huge conversation piece. My friends and neighbors always comment on the plow in my yard and how cool it looks!"
– Jeff: Homeowner
Photos of Plantings & Natural Stonework in Tabernacle, NJ
contact the pros at Garden Graphics
for a free no-obligation consultation. We can even do preliminary designs to show you how your transformation will take shape.