New Patio and Retaining Wall in Medford, NJ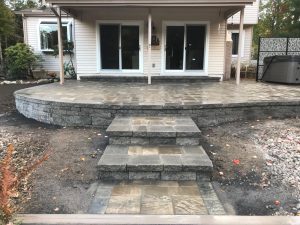 Garden Graphics recently completed a new patio and retaining wall in Medford, NJ at the home of Jill & Tom. In 2021 Garden Graphics Designed the Hardscape project. We had to remove and dispose of old ties and paver patio, tree stump to allow for new Hardscape project to be installed. There were a lot of grade changes with this job as steps and landings where needed to make a nice transition to the lake/dock area
Highlights of new patio and retaining wall in Medford, NJ
Fully Designed Hardscape Poject
Tree stump removal
Remove old patio and railroad ties
Installed paver walls, steps, landings, patio
Created functional outdoor living area.
Photos of new patio and retaining wall in Medford, NJ
If you are interested in redesigning your landscape,
contact the pros at Garden Graphics
for a free no-obligation consultation. We can even do preliminary designs to show you how your transformation will take shape.