Repurposed Brick Patio in Leisuretowne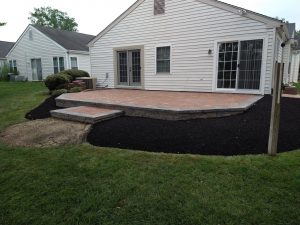 Garden Graphics recently repurposed a brick patio in Leisuretown, a 55+ development in Southampton, NJ. When doing work in a managed community, it is crucial to maintain an aesthetic that is in-line with the neighborhood and the rules of the HOA. We had to break down the old brick patio and we saved the old brick to reuse in the new patio. We then installed a new EP Henry block retaining wall, and built the new patio with the old, recycled brick. To finisjh the look, we installed new beds and mulch around new patio area.
Our patio building process
1. Designed job on paper
2. Removed and disposed of old retaining wall.
3. Removed old brick and stacked on site to reuse.
4. Installed a new retaining wall.
5. Installed a new patio with recycled brick from old patio.
Photos of repurposed a brick patio in Leisuretown
Call: (609) 953-0457 or Email Us using the form below