New Fence and Retaining Wall in Marlton, NJ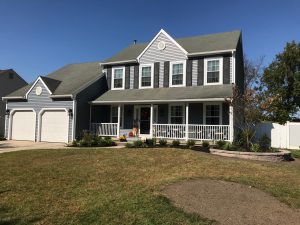 Garden Graphics recently built a new fence and retaining wall at a home in Marlton, NJ. We first removed and disposed of an old fence and railroad tie wall. We installed a new railroad tie wall and a 6-foot-high cedar stockade fence. This client has a full multi-year Landscaping master plan that we have been executing in a sequential order. Landscape master planning ensures that you achieve your goals over a longer period of time in project chucks that you can afford.
Highlights of New Fence and Retaining Wall in Marlton, NJ
1. Garden Graphics has worked with this client by fulfilling their landscaping needs for the past 4 years.
2. We have worked in an incremental fashion, based on a master plan designed by Garden Graphics for budgeting purposes.
3. Jobs that have been completed include the installation of a front and side paver walkway, installation of a front paver wall, replacement of the front plantings, replacement of the rear railroad tie wall, and replacement of the backyard fence.
4. Our business-customer relationship has been well maintained, with the client always being satisfied with the pricing and final reveal for each project.
Photos of New Fence and Retaining Wall in Marlton, NJ