Full Service Tree & Stump Removal In Medford, NJ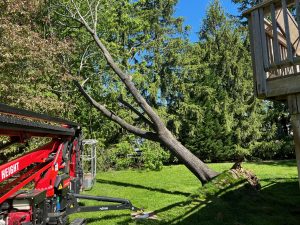 Garden Graphics completed a full service tree & stump removal in Medford, NJ. The client had wanted his old rotting trees pruned and removed from his properties. Old rotted trees can be dangerous because in a storm or strong winds they can easily be knocked over and cause major property damage. This is why the client desperately needed our services, once contacted we sent out a technician to give the client an estimate, and after pricing was agreed upon our team of experts at Garden Graphics LLC went out to perform the tree removal at each property including towns such as Medford, Tabernacle, & Shamong, NJ. We took precautionary steps to avoid any damage to the clients properties and did a thorough clean up after the job was completed.
Highlights of the Full Service Tree & Stump Removal In Medford, NJ
Garden Graphics is fully insured and Licensed in the state of NJ to remove trees, prune trees and remove stumps.
Garden Graphics has all the proper equipment to remove trees and stumps safely and professionally.
Garden Graphics Has over 30 years of experience in tree removal and Landscape construction.
Our business-customer relationship has been well maintained, with the client always being satisfied with the pricing and final reveal for each project.
"We could not be any happier with Garden Graphics Landscaping. After several visits and consultations regarding a patio/terrace extension from our existing deck, we knew they were the perfect fit for us. From start to finish, they fulfilled every expectation of ours including design, workmanship, timeliness, ease of contact, and tidiness. We will continue to contract with Garden Graphics for all our landscaping needs."
Photos of the Full Service Tree & Stump Removal