New Paver Patio Installation In Tabernacle, NJ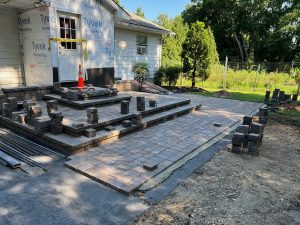 Garden Graphics LLC recently completed a job for a new client consisting of a new paver patio installation in Tabernacle, NJ. Our installation team first had to remove the old wooden deck and steps before work on this project could begin. The client the Mann family were tired of their old rickety wooden deck, that after years of usage had now turned into an eyesore. There was also danger for the children when going onto the deck, splinters, loose boards, and old nails could cause harm to the family. Mr. Mann had looked for a new kind of backyard entertainment space, and contacted the professionals at Garden Graphics LLC.! Our sales team helped the Mann family pick out the best materials that suited their home, once everything was set our team got to work on creating the best possible backyard living space for the mann family. We had designed a lay out for new steps, landings, and a patio area. After designs were set we got to work and installed the entire set up, we also installed new plantings around new patio area along with a firepit area made from boulders. Garden Graphics had to work with other contractors as the house was getting a total outside makeover from a new roof, siding, windows and doors. What a big difference in the appearance of the house when the job was complete!
Highlights of the New Paver Patio Installation In Tabernacle, NJ:
Demolition and disposal of old deck and steps.
Grade area to allow for new paver patio, landings and steps.
New Plantings around patio.
New firepit was installed off patio area.
"The Installation team at Garden Graphics were very Professional, preformed quality work in a timely manner, and overall did a really great job that my family will enjoy for many years. Thank you!"
~Mr. Mann
Photos of the New Paver Patio Installation