Walkway Replacement In Medford, NJ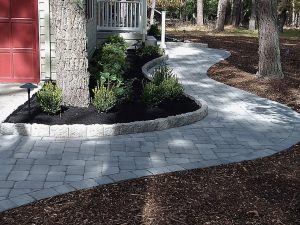 Garden Graphics LLC. recently did a walkway replacement in Medford, NJ for a client in need of their old brick walkway redone. The client the McDade family were constantly tripping over the hazardous brick walkway. The walkway became increasingly dangerous for the family as overtime the bricks came out of place due to wear and tear. The McDade's also needed a revamp of their garden near the entrance so, after giving Garden Graphics a call we were able to make a design lay out for hardscape, new plantings, and landscape lighting. Before we could install the new landscape at the McDade residence, we needed to remove the old brick walkway, some railroad ties, and Shrubs. We then removed and replaced the old brick walkway with a new paver walkway, we also removed and disposed of the old plantings and replaced them with new plantings and added outdoor landscape lighting. The new pavers will be more resistant to wear and tear, and the new garden area really ties the home together.
Highlights of the Walkway Replacement In Medford, NJ:
Demolition and disposal of old brick walk and railroad tie border.
Remove and dispose of old overgrown Shrubs.
Installed new paver walk with curbing border.
Installed new shrubs and trees, perennials.
Installed landscape lighting.
Photos of The Walkway Replacement: