New Fieldstone Patio in Medford, NJ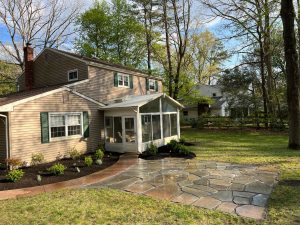 Garden Graphics recently completed this fieldstone patio in Medford, NJ at the McDade residence. We also removed and replaced the back foundation plantings and added fresh mulch. This natural stone patio is the perfect fit for this wooded lot as it adds function along with a rustic aesthetic.
Features of New Fieldstone Patio in Medford, NJ
Garden Graphic Completely Designed the Project
We Marked out for new fieldstone patio area
We Removed old plantings at back foundation
We Installed new plantings at back foundation
Layout and installation of fieldstone patio.
Now the customer has a new useable area to enjoy the back yard, entertain and spend time with family and friends. Contact Garden Graphics for all your natural stone projects!
Photos of New Fieldstone Patio in Medford, NJ