South Jersey Landscaping Companies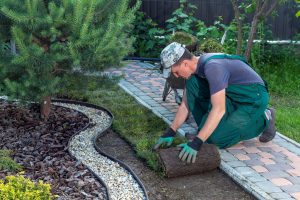 If you are looking for landscaping companies in South Jersey, you have a lot of options. There are hundreds if not thousands of South Jersey landscaping companies, and it can be difficult to choose the right one. There are landscaping companies with over 100 employees down to companies of only one person. So what do you need?
When looking for South Jersey Landscaping Companies:
Make Sure they are Licensed
Make Sure they are Insured
Make Sure they are Experienced
Make Sure they are Fair
Garden Graphics, LLC is a small South Jersey landscaping company conveniently located in Medford, NJ. We have decades of experience and we are fully licensed and insured.
Reach out to Garden Graphics for your home improvement needs when it comes to:
Landscaping – We can take on all of your landscaping ideas, including landscape design, landscape plantings, landscape lighting and complete landscape maintenance.
Hardscaping – Garden Graphics can take on your hardscaping vision too, including adding new hardscape designs to your outdoor space, installing new water features, and more.
Additional Services – We're happy to handle your snow removal needs in the winter months, and if you're a property owner looking to develop on land, we can take on your land clearing needs and more.
We welcome you to view some of our finished projects on this website. Check out our photo gallery online today, see some of our finished projects, and get some ideas for your home or place of business.
Contact Us Today!
Get started with your South Jersey landscaping needs…reach out to Garden Graphics today and let us know what you're looking for. we're looking forward to meeting with you, and showing you what we can do for your outdoor space!
Interested in seeing finished projects and customer reviews? Visit the Garden Graphics LLC Facebook page here!