Tag Archives:
Landscape design
---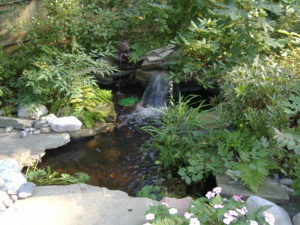 With Garden Graphics Landscape and Design, top-notch landscape design in Marlton, NJ is only a phone call away…we are based in nearby Medford, and we provide first class landscape design, installation and maintenance for home and business owners throughout the region. We've been designing and installing landscaping and hardscaping projects here for over 25 years, and we've built a solid reputation for customer service and quality work. Our management team has over 40 years of experience in the industry, and our foremen are ICPI certified in in interlocking paver and retaining wall systems installation.
At Garden Graphics, we're dedicated to the idea that landscape design is an art form…developing the land and making the full usage of the outdoor space, and creating and implementing a design that not only looks great but offers true function in the form of drainage, environment, and safety. We can build a landscape around your property that exceeds your expectations and stays compliant with municipal codes in the Marlton area.
Our Marlton Area Landscape Design Services
We offer affordable pricing for quality landscaping services such as:
Landscape Design
Landscape Plantings
Hardscaping
Landscape Lighting
Water features
Tree Service
Snow Removal
Landscape Maintenance
A major reason for our business's success is that we are committed to making the Marlton community a more beautiful place with every job we do. We want to make sure your landscape design exceeds your expectations and that it makes Marlton a better place to live. No one can do landscape design in Marlton, NJ like Garden Graphics can.
View what some of our satisfied customers have said about our work!
Want to find out more about how our long established professionals can beautify the outdoor space at your Marlton home or place of business? Reach out to us today at (609)-953-0457 or contact us online here and request your initial consultation with us.
Landscape lighting is a great way improve the look of your property no matter how big or how small it may be. Landscape lighting in Medford and Medford Lakes is very popular. Most neighborhoods do not have streetlights. Landscape lighting is a great security feature and as a deterrent to criminals and wildlife. Wooded areas like Medford and Medford Lakes are targets for robbers because they can usually escape unnoticed. If your house is well lit then it will be less attractive to criminal elements.
Garden Graphics is a full service landscape design and installation company serving the landscape lighting needs of Medford, Medford Lakes, Marlton, Shamong and Tabernacle residents. Let our talented designer create a lighted landscape that will make your home more attractive to neighbors and less attractive to vandals, robbers and wildlife.
If your are looking for Landscaping companies in Mount Laurel, NJ you have many options. A quick Google search brings up about a dozen landscaping companies in the Mt. Laurel area that you could select from. A few of the landscaping companies in Mt. Laurel are giant operations that are primarily focused on commercial work and maintaining large estates. Two of these companies in particular are very expensive. If you can afford them…good for you! The rest of us common folk can't afford those absurdly high rates.
That brings me to the point of this article. If you want to hire a quality landscaping company in Mount Laurel, New Jersey but you can't afford to hire one of the two behemoths, try giving Garden Graphics a call. We are fully licensed and insured landscape design and installation company located just minutes from Mt. Laurel. We would be happy to give you a professional and accurate quote to design or maintain your Mt. Laurel landscaping.