Tag Archives:
Shamong
---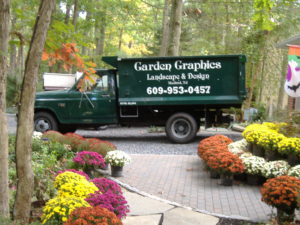 If you are a homeowner looking to beautify your outdoor space, go with a proven local company. Let Garden Graphics be the answer to your search for landscaping in Shamong, NJ! We offer a full suite of landscaping services, including lawn mowing, landscape design, hardscapes and much more. We have served the Marlton area for over 20 years, and we're looking forward to improving the value and beauty of your home.
Garden Graphics is more than just your everyday landscaping company. We truly enjoy building lasting relationships with our clients and working with them to come up with a design that is fitting for what they are looking for. If you are searching for landscaping in Shamong, NJ, then we offer you to challenge our infinite patience and superior work ethic for your next landscaping project.
We communicate effectively with our clients to ensure that we establish a shared vision for your landscaping project. By doing this, we are clear about exactly what you expect from us and how you want your exterior space to be designed. By choosing Garden Graphics landscaping in Shamong, NJ, you are choosing a company with over 30 years of experience. Give us a call this summer and let us get started on crafting your vision!
Call Your Shamong Area Landscaping Professionals Today.
Take the first step towards a beautiful and functional outdoor space, and improved curb appeal and resale value for your Shamong home. Let Garden Graphics be your choice for landscaping in Shamong. Visit our front page to find out more about our services, or contact us here to find out more!
Find out more about our services and how we can transform your lawn!
Interested in seeing more ideas for your outdoor space, reading customer testimonials and more? Be sure to Follow our Facebook page!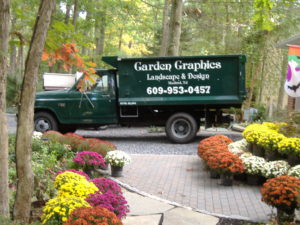 Garden Graphics provides first class South Jersey landscaping and hardscaping services to clients in Burlington and Camden Counties, and we're ready to respond to your needs for landscape installation, design, and maintenance.For over 20 years now, we've been providing quality services to property owners throughout the region, and we're dedicated to both quality work and a top notch customer experience.
Our offices are located in Medford NJ and we have a very strong following of clients in the area. We are well known as a respected landscaping company in Medford, Marlton, Shamong, Mt Laurel and Tabernacle. We recently began expanding our operations into Camden County to include neighborhoods in Cherry Hill and Voorhees.
Our services include a full variety of landscaping and hardscaping for South Jersey homeowners…we do landscape design, lighting, walks, patios, driveways, seeding, lawn mowing, pressure washing, and much much more, including snow removal in the wintertime. See a full list of our offerings with links to descriptions of our service here!
Our company is growing and expanding quite rapidly, but one thing remains the same and that is our commitment to fair pricing and quality workmanship. That is why we retain over 90% of our clients year to year. South Jersey residents expect quality and service from their landscaping company and Garden Graphics delivers every time:
Reach Out For Your South Jersey Landscaping Services Today!
If you're looking to improve the look, function, and value of your South Jersey home, contact the professionals at Garden Graphics and let us know what you need. We're ready to turn your outdoor space into an attractive place that you'll love coming home to every day!
We welcome you to have a look at some of South Jersey landscaping jobs below:
Want to see more case studies and get more ideas for your South Jersey landscape? Have a look at our Facebook page!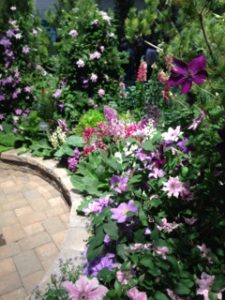 If you are looking for landscape design in Medford, NJ but you don't want to spend an arm and a leg, you should give the experts at Garden Graphics a call. We are a small landscaping company headquartered right in Medford, NJ and we have a very large amount of loyal, local clients. We maintain our clients because of our attention to detail, low overhead and our dedication to the Medford Community.
Click Here for Our Landscaping Portfolio
Effective landscape design is about more than simple plantings of flowers and shrubs, but also effectively placing them to maximize function. A good landscape design considers not only aesthetics and use of the space, but also other conditions such as environment, drainage, feasibility, function and safety.It takes into account walkway paths, structures, playgrounds and more. At Garden Graphics, we design both active and passive landscape spaces that enhance both the curb appeal and value of your Medford home.
Our certified, licensed and insured team will guarantee that your new exterior space meet your desires and requirements while adhering to local municipal codes and standards. This is especially important in Medford, Medford Lakes and Shamong because of the restrictions of the New Jersey Pinelands commission.
Our growth in the region over the years has been almost entirely through referrals, and we're dedicated to making sure you spread the word about us. We're dedicated to creating an outdoor space for your Medford home or place of business that you'll love coming to!
Reach Out Today For Your Medford Landscape Design!
Garden Graphics is your destination for landscaping, hardscaping, lighting, water features, landscape maintenance and much more. Contact us today and let us be the answer to your search for quality and affordable landscape design in Medford!