Author Archives: vlm
---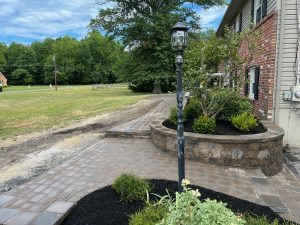 Garden Graphics recently completed a paver walkway and retaining wall in Medford, NJ at the home of the Zuber family. We designed and installed the entire project including: a new front paver walk, steps and a retaining wall with new plantings. The entire project was completed in only 8 days.
Features of paver walkway and retaining wall in Medford, NJ
1. Homeowner did not have a functioning front entrance due to slope in grades and no front walkway.
2. Removal and disposal of old overgrown Shrubs as needed.
3. Installed new paver walk.
4. Installed new retaining wall.
5. Installed new steps due to grade changes.
6. Installeded new plantings.
Quote What a difference, great job-Thank you!
– Homeowner
Photos of paver walkway and retaining wall in Medford, NJ at the home of the Zuber family.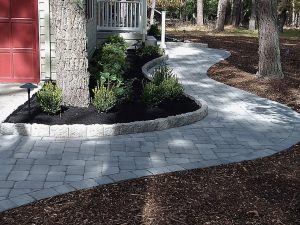 Garden Graphics LLC. recently did a walkway replacement in Medford, NJ for a client in need of their old brick walkway redone. The client the McDade family were constantly tripping over the hazardous brick walkway. The walkway became increasingly dangerous for the family as overtime the bricks came out of place due to wear and tear. The McDade's also needed a revamp of their garden near the entrance so, after giving Garden Graphics a call we were able to make a design lay out for hardscape, new plantings, and landscape lighting. Before we could install the new landscape at the McDade residence, we needed to remove the old brick walkway, some railroad ties, and Shrubs. We then removed and replaced the old brick walkway with a new paver walkway, we also removed and disposed of the old plantings and replaced them with new plantings and added outdoor landscape lighting. The new pavers will be more resistant to wear and tear, and the new garden area really ties the home together.
Highlights of the Walkway Replacement In Medford, NJ:
Demolition and disposal of old brick walk and railroad tie border.
Remove and dispose of old overgrown Shrubs.
Installed new paver walk with curbing border.
Installed new shrubs and trees, perennials.
Installed landscape lighting.
Photos of The Walkway Replacement: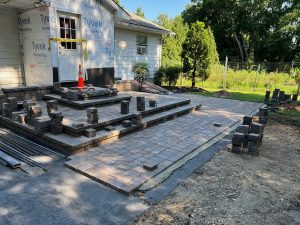 Garden Graphics LLC recently completed a job for a new client consisting of a new paver patio installation in Tabernacle, NJ. Our installation team first had to remove the old wooden deck and steps before work on this project could begin. The client the Mann family were tired of their old rickety wooden deck, that after years of usage had now turned into an eyesore. There was also danger for the children when going onto the deck, splinters, loose boards, and old nails could cause harm to the family. Mr. Mann had looked for a new kind of backyard entertainment space, and contacted the professionals at Garden Graphics LLC.! Our sales team helped the Mann family pick out the best materials that suited their home, once everything was set our team got to work on creating the best possible backyard living space for the mann family. We had designed a lay out for new steps, landings, and a patio area. After designs were set we got to work and installed the entire set up, we also installed new plantings around new patio area along with a firepit area made from boulders. Garden Graphics had to work with other contractors as the house was getting a total outside makeover from a new roof, siding, windows and doors. What a big difference in the appearance of the house when the job was complete!
Highlights of the New Paver Patio Installation In Tabernacle, NJ:
Demolition and disposal of old deck and steps.
Grade area to allow for new paver patio, landings and steps.
New Plantings around patio.
New firepit was installed off patio area.
"The Installation team at Garden Graphics were very Professional, preformed quality work in a timely manner, and overall did a really great job that my family will enjoy for many years. Thank you!"
~Mr. Mann
Photos of the New Paver Patio Installation