Tag Archives:
South Jersey Landscaping
---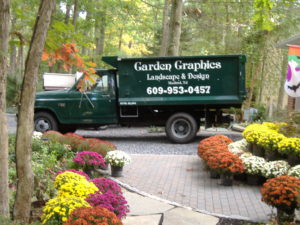 Garden Graphics provides first class South Jersey landscaping and hardscaping services to clients in Burlington and Camden Counties, and we're ready to respond to your needs for landscape installation, design, and maintenance.For over 20 years now, we've been providing quality services to property owners throughout the region, and we're dedicated to both quality work and a top notch customer experience.
Our offices are located in Medford NJ and we have a very strong following of clients in the area. We are well known as a respected landscaping company in Medford, Marlton, Shamong, Mt Laurel and Tabernacle. We recently began expanding our operations into Camden County to include neighborhoods in Cherry Hill and Voorhees.
Our services include a full variety of landscaping and hardscaping for South Jersey homeowners…we do landscape design, lighting, walks, patios, driveways, seeding, lawn mowing, pressure washing, and much much more, including snow removal in the wintertime. See a full list of our offerings with links to descriptions of our service here!
Our company is growing and expanding quite rapidly, but one thing remains the same and that is our commitment to fair pricing and quality workmanship. That is why we retain over 90% of our clients year to year. South Jersey residents expect quality and service from their landscaping company and Garden Graphics delivers every time:
Reach Out For Your South Jersey Landscaping Services Today!
If you're looking to improve the look, function, and value of your South Jersey home, contact the professionals at Garden Graphics and let us know what you need. We're ready to turn your outdoor space into an attractive place that you'll love coming home to every day!
We welcome you to have a look at some of South Jersey landscaping jobs below:
Want to see more case studies and get more ideas for your South Jersey landscape? Have a look at our Facebook page!
There are a lot of landscaping companies in South Jersey. These companies vary in size and scope and vary greatly in price and quality of service. Garden Graphics is a full service
South Jersey landscaping company located in Medford, NJ. We serve the needs of residential clients throughout the area in the areas of:
Landscape Design
Landscape Installation
Landscape Maintenance
Hardscaping
Tree Service
Snow Removal
Garden Graphics Meets the Following Criteria. Does your South Jersey Landscaping Company?:
Licensed
Insured
Experienced
Fair
If your current landscaping company in South Jersey does not fit the following criteria, you should give us a call today. We would be happy to give you an accurate and fair quote on your next landscaping or hardscaping job.
Landscaping in South Jersey presents a unique challenge. We are surrounded in many communities by the natural beauty of the Pinelands. It is a shame when landscaping companies in South Jersey try to use a one size fits all approach to a property. At Garden Graphics we try very hard to preserve the beauty of our surroundings while adding landscape features that compliment and enhance the natural landscape.
For Example:
A House in Medford Lakes should not have the same cookie-cutter landscaping as a house in a Cherry Hill suburban neighborhood. The Cherry hill house would require more plantings a foliage to achieve a natural look because most neighborhoods in Cherry Hill are surrounded by developed land.
The Medford Lakes home is already surrounded by nature and needs to utilize those existing natural elements in the landscape design. South Jersey landscaping is not about selling clients a service. It is about enhancing the beauty of your home's natural  surroundings.